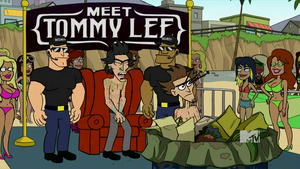 Thomas Lee Bass (aka Tommy Lee) (born October 3, 1962) is an American musician, and founding member of glam metal band Mötley Crüe. As well as being the band's long-term drummer, Lee founded rap-metal band Methods of Mayhem, and has pursued solo musical projects. He has also been married to actresses Heather Locklear and Pamela Anderson, with whom he had two children.
Tommy Lee appears as a guest at the surf competition in "Surf Legend". When Wadska attempts to jinx Turk with a voodoo doll, Tommy Lee is instead afflicted, complaining of sudden pain to his eyes and crotch.
Ad blocker interference detected!
Wikia is a free-to-use site that makes money from advertising. We have a modified experience for viewers using ad blockers

Wikia is not accessible if you've made further modifications. Remove the custom ad blocker rule(s) and the page will load as expected.