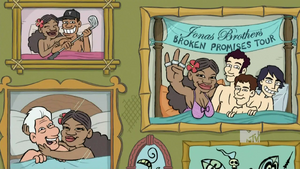 Eldrick Tont "Tiger" Woods (born December 30, 1975) is an American professional golfer whose achievements to date rank him among the most successful golfers of all time. Formerly the World No. 1, he is the highest-paid professional athlete in the world, having earned an estimated US$90.5 million from winnings and endorsements in 2010.
Tiger appears on Tang's trophy wall of former lovers at her bar, the Tiki Tako.
Tiger is mentioned as one of the sports heroes who threw away their career in "Surf Legend"
Ad blocker interference detected!
Wikia is a free-to-use site that makes money from advertising. We have a modified experience for viewers using ad blockers

Wikia is not accessible if you've made further modifications. Remove the custom ad blocker rule(s) and the page will load as expected.