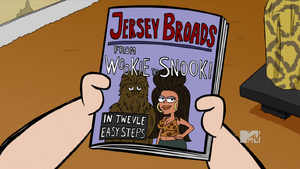 Nicole Elizabeth "Snooki" Polizzi (born November 23, 1987) is an American reality television personality who appeared on the MTV reality show Jersey Shore from 2009 to 2012.
Snooki makes many casual appearances including on a box of "Snooki Crisp" cereal in "Don't Blow Your Wadska".
In "Breast Friends", Mondo gets the idea to have him and Woodie dress up in women's clothing in order to sneak into Jeena's mobile breast exam clinic in order to see women's breasts when he sees a copy of Jersey Broads magazine with Chewbacca and Snooki on the cover.
Snooki appears on a "16 and Pregnant" home pregnancy test in "Surf Legend" that comes with Jersey Shore brand Valtrex, a herpes medication.
Ad blocker interference detected!
Wikia is a free-to-use site that makes money from advertising. We have a modified experience for viewers using ad blockers

Wikia is not accessible if you've made further modifications. Remove the custom ad blocker rule(s) and the page will load as expected.