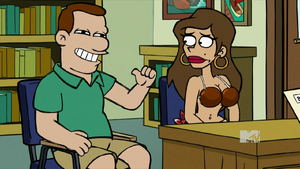 Smilin' Mike is one of the regular patrons of the Tiki Tako.
Mike sits in on the Del Toro High School PTA meeting in "Tech Rehab" where Turk's father makes him hit himself.
Babs brings Smilin' Mike along when he is too drunk to be left alone to drive to his son's soccer practice where he is the coach while she meets with Principal Gurniel regarding her son Mondo's behavior at school in "Backstage Babs". When Babs leaves to think over what Principal Gurniel tells her, Mike tells him that things turned into a sausage party.
Smilin' Mike is voiced by Dax Shephard.
Episode Appearances
Edit
Ad blocker interference detected!
Wikia is a free-to-use site that makes money from advertising. We have a modified experience for viewers using ad blockers

Wikia is not accessible if you've made further modifications. Remove the custom ad blocker rule(s) and the page will load as expected.