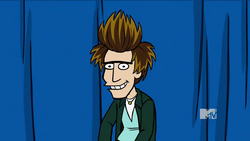 Ryan Frank Cabrera (born July 18, 1982) is an American pop rock musician. In 2004, Cabrera debuted with his single "On the Way Down", a top ten hit in the U.S., and album Take It All Away. He continued his career with two more albums, You Stand Watching and The Moon Under Water.
Ryan is one of the contestants to take Milan on a date to her Sweet 16 show party in "The Grass is Always Greener".
Ad blocker interference detected!
Wikia is a free-to-use site that makes money from advertising. We have a modified experience for viewers using ad blockers

Wikia is not accessible if you've made further modifications. Remove the custom ad blocker rule(s) and the page will load as expected.