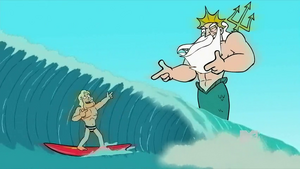 Poseidon was the god of the sea in Greek mythology. The name of the sea-god Nethuns in Etruscan was adopted in Latin for Neptune in Roman mythology: both were sea gods analogous to Poseidon.
In "Surf Legend", Woodie recounts the legend of Duke Lopez who was said to have received his magic swim briefs from Poseidon himself.
Ad blocker interference detected!
Wikia is a free-to-use site that makes money from advertising. We have a modified experience for viewers using ad blockers

Wikia is not accessible if you've made further modifications. Remove the custom ad blocker rule(s) and the page will load as expected.