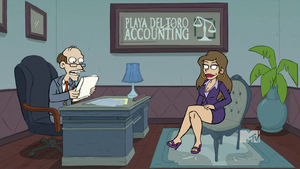 Playa Del Toro Accounting is where the manager of the failed Bank of Del Toro sends Babs when she shows up for a promised job in the pilot, only to discover the manager locking the doors on the bank. When she starts to break down in tears, the manager gives her a business card for the accounting firm and suggests she tries there.
At the accounting firm, Babs fails to impress with her long waitressing resume and doesn't get hired.
Ad blocker interference detected!
Wikia is a free-to-use site that makes money from advertising. We have a modified experience for viewers using ad blockers

Wikia is not accessible if you've made further modifications. Remove the custom ad blocker rule(s) and the page will load as expected.