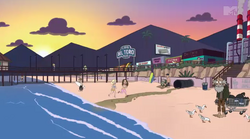 Playa Del Toro is a fictional southern California beach town. Babs moves there in the pilot on the promise of a bank job only to find the bank had been purchased and closed. After impressing Tang with her skills as a waitress, Tang convinces her to to come work for her at the Tiki Tako.
Babs son Mondo attends school at Del Toro High School and hangs out at the beach with his best friend Woodie.
Ad blocker interference detected!
Wikia is a free-to-use site that makes money from advertising. We have a modified experience for viewers using ad blockers

Wikia is not accessible if you've made further modifications. Remove the custom ad blocker rule(s) and the page will load as expected.