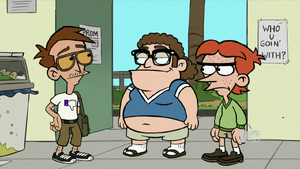 Oliver is the overweight friend of Dick Nudel and the class valedictorian at Del Toro High School.
In "The D-List", he introduces himself as one of the group of nerds just above Mondo on Milan's list of penis sizes. Later, he is seen hanging from a restroom stall door by his underwear and asks Mondo and Woodie for help as they walk by, ignoring him.
In "Red Tuxedo", he takes a tall, lanky girl to the prom.
Ad blocker interference detected!
Wikia is a free-to-use site that makes money from advertising. We have a modified experience for viewers using ad blockers

Wikia is not accessible if you've made further modifications. Remove the custom ad blocker rule(s) and the page will load as expected.