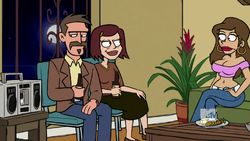 Mr. & Mrs. Wadska are the parents of Jeena and Winthorp Wadska.
In "Tech Rehab", Mondo's mother Babs invites all of the parents over to their house while the kids are away. After some drinks provided by Ms. Teets loosens everyone up, The Wadskas make out on the couch like teenagers and later emerge from a bedroom with Mr. & Mrs. Stone.
The Wadskas are also seen at Babs' birthday party at the Tiki Tako in "Mondo Mia".
Jeena shows off the family portraits in "Virgin Hangover".
Ad blocker interference detected!
Wikia is a free-to-use site that makes money from advertising. We have a modified experience for viewers using ad blockers

Wikia is not accessible if you've made further modifications. Remove the custom ad blocker rule(s) and the page will load as expected.