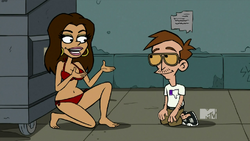 Milena "Mila" Kunis (born Milena Markivna Kunis on August 14, 1983) is an American actress. Her television work includes the role of Jackie Burkhart on That '70s Show and the voice of Meg Griffin on the animated series Family Guy. In 2010, she won the Marcello Mastroianni Award for Best Young Actor or Actress at the 67th Venice International Film Festival for her performance as Lily in Black Swan. She was also nominated for a Golden Globe for her Black Swan role.
Mila appears as herself in "Red Tuxedo". When Wadska spots her trying to dodge photographers on the beach, he helps her escape and asks that she accompany him to the school prom. At first she refuses, but when she bumps her head and loses her memory, Wadska convinces her she is his girlfriend. At the dance, a former lover of Ms. Teets spots her drinking and places her under arrest.
External Links
Edit
Ad blocker interference detected!
Wikia is a free-to-use site that makes money from advertising. We have a modified experience for viewers using ad blockers

Wikia is not accessible if you've made further modifications. Remove the custom ad blocker rule(s) and the page will load as expected.