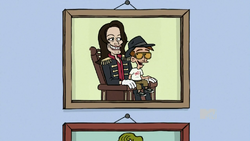 Michael Joseph Jackson (August 29, 1958 – June 25, 2009) was an American recording artist, singer-songwriter, and philanthropist. Referred to as the King of Pop, Jackson is recognized as the most successful entertainer of all time by Guinness World Records. His contribution to music, dance and fashion, along with a much-publicized personal life, made him a global figure in popular culture for over four decades. The eighth child of the Jackson family, he debuted on the professional music scene along with his brothers as a member of The Jackson 5 in the mid-1960s, and began his solo career in 1971. Jackson's 1982 album Thriller is the best-selling album of all time. His other records, including Off the Wall (1979), Bad (1987), Dangerous (1991) and HIStory (1995), also rank among the world's best-selling.
In "Don't Blow Your Wadska", Wadska has a picture of himself sitting on Michael Jackson's lap on his wall of heroes.
Ad blocker interference detected!
Wikia is a free-to-use site that makes money from advertising. We have a modified experience for viewers using ad blockers

Wikia is not accessible if you've made further modifications. Remove the custom ad blocker rule(s) and the page will load as expected.