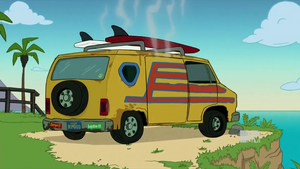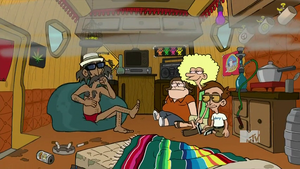 Lonnie's Van is where Playa Del Toro's resident stoner Lonnie lives with his dog Foghat along the ocean. Mondo and Woodie often stop by for advice or a buzz and occasionally are joined by Wadska. the van's license plate reads BOMDGD, or "bomb diggity".
Lonnie claims to have been a soldier in Operation Desert Storm in the "Pilot" who freaked out and spent three years in a mental hospital. As a hint that he may have been a marine, his van has a bumper sticker reading the Marine Corps motto "Semper Fi." Te van is also seen to have a poster of Del Toro's local surfing legend Duke Lopez.
In "Surf Legend", Lonnie told of once driving a Pontiac Fiero and living the straight life but gave it up.
In "Backstage Babs" he claims the only reason he has the oceanside view is to get a free concert from the annual Oceanus Music Festival which he does from the van's roof.
Ad blocker interference detected!
Wikia is a free-to-use site that makes money from advertising. We have a modified experience for viewers using ad blockers

Wikia is not accessible if you've made further modifications. Remove the custom ad blocker rule(s) and the page will load as expected.