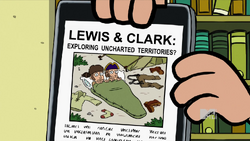 Meriwether Lewis (August 18, 1774 – October 11, 1809) was an American explorer, soldier, and public administrator, best known for his role as the leader of the Lewis and Clark Expedition, also known as the Corps of Discovery, with William Clark, whose mission was to explore the territory of the Louisiana Purchase. President Thomas Jefferson appointed him Governor of Upper Louisiana in 1806.
William Clark (August 1, 1770 – September 1, 1838) was an American explorer, soldier, Indian agent, and territorial governor. A native of Virginia, he would also grow up in pre-statehood Kentucky before later settling in what later became the state of Missouri. Along with Lewis, Clark led the Lewis and Clark Expedition of 1803 to 1806 across the Louisiana Purchase to the Pacific Ocean. Before the expedition, he served in a militia and the United States Army. Afterward he served in a militia and as governor of the Missouri Territory. From 1822 until his death in 1838, he served as Superintendent of Indian Affairs.
While Mondo and Wadska study laws regarding free spech at the Del Toro Library in "The D-List", Wadska brings up a picture of Lewis and Clark sharing a sleeping bag on his computer tablet in a historical gossip magazine.
Ad blocker interference detected!
Wikia is a free-to-use site that makes money from advertising. We have a modified experience for viewers using ad blockers

Wikia is not accessible if you've made further modifications. Remove the custom ad blocker rule(s) and the page will load as expected.