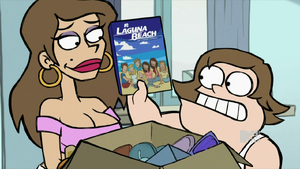 Laguna Beach: The Real Orange County (often referred to as Laguna Beach) was an MTV reality show documenting the lives of several teenagers living in Laguna Beach, a seaside community located in Orange County, California. It differs from the usual reality show in that it is structured as a rather traditional narrative more commonly seen in fictionalized television dramas or soap operas than a straightforward observant documentary-style, which reality TV attempts to portray.
Mondo's California preparedness kit contains his boogie board, spray tanner, a DVD set of Season one of Laguna Beach and a rubber pickle which Babs quickly claims as hers.
Ad blocker interference detected!
Wikia is a free-to-use site that makes money from advertising. We have a modified experience for viewers using ad blockers

Wikia is not accessible if you've made further modifications. Remove the custom ad blocker rule(s) and the page will load as expected.