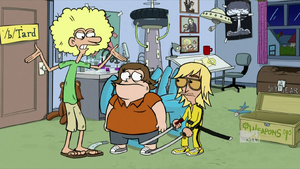 Kill Bill was originally scheduled for a single theatrical release, but with a running time of over four hours, it was separated into two volumes. Kill Bill: Volume 1 was released in late 2003, and Kill Bill: Volume 2 was released in early 2004 - though the two films are frequently referred to collectively as simply "Kill Bill."
The volumes follow a character initially identified as "The Bride", a former member of an assassination team who seeks revenge on her ex-colleagues who massacred members of her wedding party and tried to kill her.
In "Don't Blow Your Wadska", Wadska dresses as "The Bride" to have a swordfight during a sleepover with Mondo and Woodie in order to reenact the action from the film.
Ad blocker interference detected!
Wikia is a free-to-use site that makes money from advertising. We have a modified experience for viewers using ad blockers

Wikia is not accessible if you've made further modifications. Remove the custom ad blocker rule(s) and the page will load as expected.