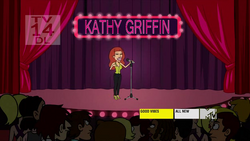 Kathleen Mary "Kathy" Griffin (born November 4, 1960) is an American actress, stand-up comedian, and Emmy Award-winning television personality. Griffin first gained recognition for appearances on two episodes of Seinfeld, and then for her supporting role on the NBC sitcom Suddenly Susan. She was also the star of the Bravo reality show Kathy Griffin: My Life on the D-List, for which she has won two Emmy Awards as executive producer.
To help Mondo lose an erection in "The Grass is Always Greener", Woodie makes Mondo think of Kathy Griffin doing a stand-up routine. However, the extended thought of Jeena blowing up the theater in a bikini negates the effect.
Ad blocker interference detected!
Wikia is a free-to-use site that makes money from advertising. We have a modified experience for viewers using ad blockers

Wikia is not accessible if you've made further modifications. Remove the custom ad blocker rule(s) and the page will load as expected.