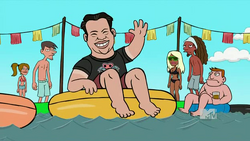 Jonathan Keith "Jon" Gosselin (born April 1, 1977) is an American television personality, known for his appearances with then-wife Kate Gosselin and their eight children on the American reality TV show Jon & Kate Plus 8.
Jon crashes the Spring break party for no apparent reason in "Floatopia".
Jon also appears as one of Babs' Facebook friends in "Mondo Mia".
Ad blocker interference detected!
Wikia is a free-to-use site that makes money from advertising. We have a modified experience for viewers using ad blockers

Wikia is not accessible if you've made further modifications. Remove the custom ad blocker rule(s) and the page will load as expected.