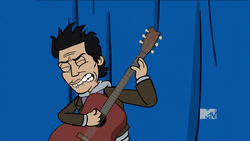 John Clayton Mayer (born October 16, 1977) is an American pop rock and blues rock musician, singer-songwriter, recording artist, and music producer. His first two studio albums, Room for Squares and Heavier Things, did well commercially, achieving multi-platinum status. In 2003, he won a Grammy Award for Best Male Pop Vocal Performance for "Your Body Is a Wonderland".
Mayer is one of the contestants to take Milan on a date to her Sweet 16 show party in "The Grass is Always Greener". When Mondo climbs on the scaffolding over the stage and falls, he strikes Mayer on the head knocking him out.
Ad blocker interference detected!
Wikia is a free-to-use site that makes money from advertising. We have a modified experience for viewers using ad blockers

Wikia is not accessible if you've made further modifications. Remove the custom ad blocker rule(s) and the page will load as expected.