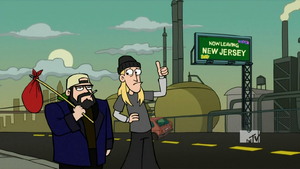 Jay and Silent Bob are fictional characters portrayed by Jason Mewes and Kevin Smith, respectively, in Kevin Smith's View Askewniverse, a fictional universe created and used in most films, comics and television by Smith, which began in Clerks.
Jay and Silent Bob have appeared in most of Smith's films with the exceptions being Jersey Girl, Zack and Miri Make a Porno, Cop Out, and Red State. In Smith's universe, the characters are shown spending most of their time selling marijuana in front of the convenience store in the Clerks films. An exception to their drug trafficking occurred in Clerks: The Animated Series, in which they were selling illegal fireworks instead of drugs.
Jay and Silent Bob appear as Mondo and his mother Babs leave New Jersey during the musical number "Little Bastard" in "Mondo Mia".
Ad blocker interference detected!
Wikia is a free-to-use site that makes money from advertising. We have a modified experience for viewers using ad blockers

Wikia is not accessible if you've made further modifications. Remove the custom ad blocker rule(s) and the page will load as expected.