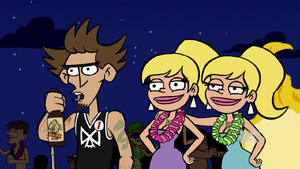 HJ & BJ Kuntz, both voiced by Cree Summer, are Milan's twin sidekicks and can be identified by their initials on gold chains around their necks. BJ in purple appears to have some attraction to Woodie, singling him out for special attention in "The D-List".
In "Red Tuxedo", Casa goes to the junior prom with BJ but when he runs his tongue down her face, she slaps him and Woodie gets jealous at his behavior. When Casa leaves her for Dee-Dee and their new son Casa Malibu Spears, she dances with Woodie. HJ is seen dancing at the prom with Turk's stoner friend, Chester.
In "Surf Legend", Milan relies on Jeena to help her buy a pregnancy test and visit the doctor when it turns out positive because she feels that HJ and BJ talk too much. When the bump into the par after Dr. Vijay gives Milan the good news that she isn't pregnant, Milan tells HJ & BJ in a panic that she was helping Jeena get an abortion. When HJ & BJ torment Jeena over being a killer, Milan calls them off.
Ad blocker interference detected!
Wikia is a free-to-use site that makes money from advertising. We have a modified experience for viewers using ad blockers

Wikia is not accessible if you've made further modifications. Remove the custom ad blocker rule(s) and the page will load as expected.