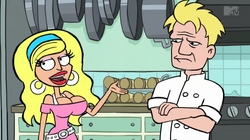 Gordon James Ramsay, OBE (born 8 November 1966) is a Scottish chef, television personality and restaurateur. Ramsay is known for presenting TV programmes about competitive cookery and food, such as the British series Hell's Kitchen, The F Word, Ramsay's Best Restaurant, and Ramsay's Kitchen Nightmares, along with the American versions of Hell's Kitchen, Kitchen Nightmares, and MasterChef.
Ramsay appears as the Stone family's personal chef in "The Grass is Always Greener" when Milan gives Mondo a tour of the Stone Mansion. Milan notes that he makes her favorite foods that she throws up after eating.
Ad blocker interference detected!
Wikia is a free-to-use site that makes money from advertising. We have a modified experience for viewers using ad blockers

Wikia is not accessible if you've made further modifications. Remove the custom ad blocker rule(s) and the page will load as expected.