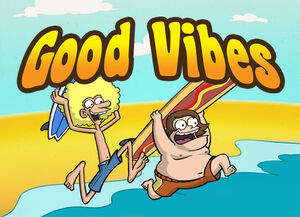 Good Vibes is an animated series created by David Gordon Green for MTV and developed by producers Mike Clements and Tom Werner and animator Brad Ableson.
It follows a transplanted Jersey boy, Mondo and his best bud Woodie on a mission to surf the biggest waves, crash the wildest parties and chase the prettiest girls in Playa Del Toro - a California beach town where bikinis rule and the vibe is an endless summer.
The show's full-length opening theme features a running gag of Mondo and Woodie running through a cloud of smoke coming from Lonnie's van and they are transplanted to a fantasy world.
On February 24, 2012, MTV announced that Good Vibes has been canceled due to low ratings.[1]
Ad blocker interference detected!
Wikia is a free-to-use site that makes money from advertising. We have a modified experience for viewers using ad blockers

Wikia is not accessible if you've made further modifications. Remove the custom ad blocker rule(s) and the page will load as expected.