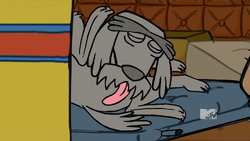 Foghat is Lonnie's companion and vanmate. When Foghat stops to clean himself in "Breast Friends", Lonnie joins in.
He is named after the 1970s British rock band Foghat, best known for their song "Slow Ride."
Ad blocker interference detected!
Wikia is a free-to-use site that makes money from advertising. We have a modified experience for viewers using ad blockers

Wikia is not accessible if you've made further modifications. Remove the custom ad blocker rule(s) and the page will load as expected.