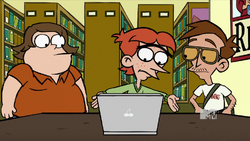 Dick Nudel is one of the three biggest geeks at Del Toro High School.
In "The D-List", he and his friends are judged to have the three smallest penises in school but place just above Mondo who is judged the smallest after losing his trunks in a polar bear plunge into the ocean in winter.
In "Red Tuxedo" he takes Meg Griffin to the school prom.
In "Backstage Babs", he's seen at the school college fair.
Ad blocker interference detected!
Wikia is a free-to-use site that makes money from advertising. We have a modified experience for viewers using ad blockers

Wikia is not accessible if you've made further modifications. Remove the custom ad blocker rule(s) and the page will load as expected.