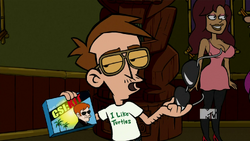 David Stephen Caruso (born January 7, 1956) is an American film and television actor and producer, best known for his role of Lieutenant Horatio Caine on the TV series CSI: Miami.
In order to determine who Mondo's father is in "Mondo Mia", Wadska breaks out his CSI Junior Detective kit complete with David Caruso sunglasses and says they'll get DNA samples from each of the potential poppas. Wadska's sunglasses have a button on the side to play a recording of David's triumphant yell at the end of most cases which Wadska plays each time he gets a sample until the batteries die.
Ad blocker interference detected!
Wikia is a free-to-use site that makes money from advertising. We have a modified experience for viewers using ad blockers

Wikia is not accessible if you've made further modifications. Remove the custom ad blocker rule(s) and the page will load as expected.