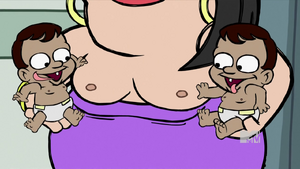 Cuervo & Batrol are the two children of a woman who comes to Jeena's mobile breast clinic for an exam in "Breast Friends". When Mondo and Woodie sneak in dressed as women in order to volunteer and get a peek at breasts, Nurse Fingerman has Mondo hold the children while the mother expresses her milk in order to get an accurate exam. The two immediately latch onto Mondo's breasts which causes him to freak out but is depressed when they leave.
Ad blocker interference detected!
Wikia is a free-to-use site that makes money from advertising. We have a modified experience for viewers using ad blockers

Wikia is not accessible if you've made further modifications. Remove the custom ad blocker rule(s) and the page will load as expected.