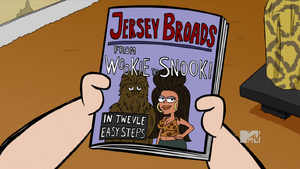 Chewbacca is a brown harried humanoid being and is one of the main characters in the Star Wars franchise. He is a Wookiee from the planet Kashyyyk, and serves as the co-pilot to the Millennium Falcon, along with his friend Han Solo.
In "Breast Friends", Mondo gets the idea to have him and Woodie dress up in women's clothing in order to sneak into Jeena's mobile breast exam clinic in order to see women's breasts when he sees a copy of Jersey Broads magazine with Chewbacca and Snooki on the cover.
Ad blocker interference detected!
Wikia is a free-to-use site that makes money from advertising. We have a modified experience for viewers using ad blockers

Wikia is not accessible if you've made further modifications. Remove the custom ad blocker rule(s) and the page will load as expected.