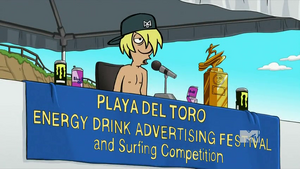 Chester "The Babe Molester" is one of Turk's close friends along with Casa. Chester is a stoner usually found in a state of perpetual buzz.
In "Floatopia", Chester runs the bong snorkeling concession.
Chester takes HJ Kuntz to the junior prom in "Red Tuxedo".
Chester and his dad grow marijuana together in "Mondo Mia".
In "Surf Legend", he clears his head long enough to provide announcements for the "Playa Del Toro Energy Drink Festival and Surfing Competition."
Ad blocker interference detected!
Wikia is a free-to-use site that makes money from advertising. We have a modified experience for viewers using ad blockers

Wikia is not accessible if you've made further modifications. Remove the custom ad blocker rule(s) and the page will load as expected.