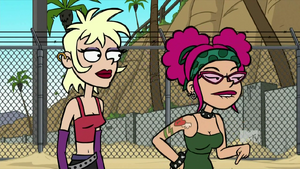 Candi & Toni are two old friends of Babs that she bumps into while chaperoning her son Mondo and Woodie to the Oceanus Music Festival in "Backstage Babs".
When Babs feels that perhaps she isn't being a good parent, she decides to straighten up, starting with cleaning the house and censoring his games and internet content. Mondo starts to protest but Babs forces him to go along or face not being allowed to go to the music festival although they are bummed when she decides to chaperone and keep them out of trouble. When Babs bumps into Candi & Toni they are convinced Babs is still being a Hellraiser despite her protests that she is trying to be a good parent. When Babs hears Candi tell of her son Petey getting his drug dealer pregnant at a gang initiation and they laugh at her about how Mondo had originally planned on college, she stops to think things over.
Ad blocker interference detected!
Wikia is a free-to-use site that makes money from advertising. We have a modified experience for viewers using ad blockers

Wikia is not accessible if you've made further modifications. Remove the custom ad blocker rule(s) and the page will load as expected.