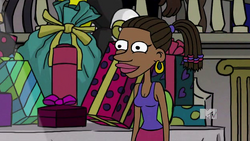 Bumi is the adopted African daughter of Mr. & Mrs. Stone and step-sister to Milan and Woodie Stone.
Milan introduces Mondo to Bumi in "The Grass is Always Greener" when she gives a tour of the Stone Mansion on her television show prior to her Sweet 16 party although she treats her as just another family belonging. At the party, Bumi gives Milan a gift of a donation to the "Save Darfur" foundation which she rudely dismisses.
She also appears at the Del Toro High School college fair with Milan in "Backstage Babs".
Ad blocker interference detected!
Wikia is a free-to-use site that makes money from advertising. We have a modified experience for viewers using ad blockers

Wikia is not accessible if you've made further modifications. Remove the custom ad blocker rule(s) and the page will load as expected.