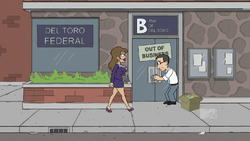 The Bank of Del Toro was where Babs Brando was expecting a job after leaving New Jersey for California in the pilot. when she arrived, she found the bank manager locking the doors after the bank was bought out and her promise of a job gone. The bank manager gave her the business card of an accountant to try but that also failed to work out.
A branch of the bank is robbed in "Mondo Mia", with both the robber and the police officer stopping to watch Babs run by.
Ad blocker interference detected!
Wikia is a free-to-use site that makes money from advertising. We have a modified experience for viewers using ad blockers

Wikia is not accessible if you've made further modifications. Remove the custom ad blocker rule(s) and the page will load as expected.