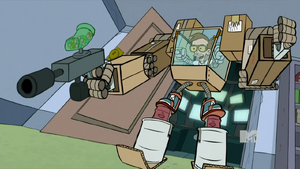 Avatar is a 2009 American epic science fiction motion capture film written and directed by James Cameron, and starring Sam Worthington, Zoe Saldana, Stephen Lang, Michelle Rodriguez, Joel David Moore, Giovanni Ribisi and Sigourney Weaver. The film is set in the mid-22nd century, when humans are mining a precious mineral called unobtanium on Pandora, a lush habitable moon of a gas giant in the Alpha Centauri star system. The expansion of the mining colony threatens the continued existence of a local tribe of Na'vi—a humanoid species indigenous to Pandora. The film's title refers to the genetically engineered Na'vi-human hybrid bodies used by a team of researchers to interact with the natives of Pandora.
In "Don't Blow Your Wadska", [[wadska dons a AMP powersuit constructed out of cardboard boxes complete with a GAU-90 autocannon paintball gun and orders Mondo and Woodie to try to evade him as he has no other guns available for them. Woodie later finds a standard paintball gun to fight back and paints himself blue as a Na'vi. Wadska later reveals Mondo's favorite movie is Avatar and wanted to give him a chance to live it.
Ad blocker interference detected!
Wikia is a free-to-use site that makes money from advertising. We have a modified experience for viewers using ad blockers

Wikia is not accessible if you've made further modifications. Remove the custom ad blocker rule(s) and the page will load as expected.