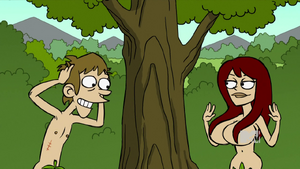 Adam and Eve were, according to the Book of Genesis, the first man and woman created by God.
In "Breast Friends", Ms. Teets presents a 3D film about the breasts in her sex education class. When God gives Adam & Eve instructions to procreate. Adam shows little interest in Eve until God gives her breasts.
Ad blocker interference detected!
Wikia is a free-to-use site that makes money from advertising. We have a modified experience for viewers using ad blockers

Wikia is not accessible if you've made further modifications. Remove the custom ad blocker rule(s) and the page will load as expected.